Tartiflette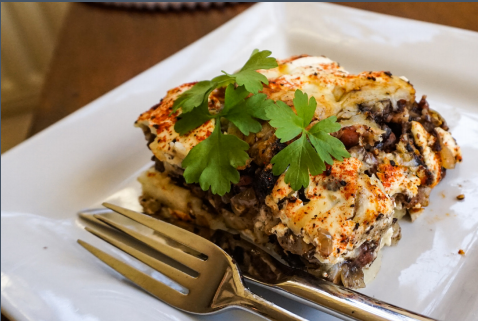 Tartiflette (GF)
Serves 4-6: Something a little bit different!
Ingredients
4lb (1.6kg) potatoes, sliced thinly

2-3tbsp (30-45ml) olive oil

2 large onions, finely chopped

16oz (500g) smoked streaky bacon, chopped

16oz (500g) chestnut mushrooms, sliced

16oz (500g) black pudding, skin removed, chopped into small pieces

10oz (300g) grated cheddar14fl oz (400ml) full

fat crème fraiche

Paprika

Black pepper

4tbsp (60ml) chopped parsley to garnish
Instructions
1. Preheat the oven to 400◦F, 200◦C, gas mark 6.
2. Peel and thinly slice the potatoes.
3. Spread on a buttered, ovenproof dish and cover with 1/3 of the crème fraiche.
4. Heat oil in a non-stick frying pan, add onion and cook on high for 3 minutes.
5. Add the bacon and black pudding to the onions and reduce the heat and cook for 15 minutes.
6. Add the mushrooms and cook for a further 3 minutes.
7. Scatter the contents of the pan over the potatoes and sprinkle with grated cheese.
8. Pour rest of the crème fraiche over the mixture and season with pepper and paprika.
9. Cook in the oven for approx. 15 minutes and then garnish with parsley.
Can be served with vegetables of your choice.
LADIES IN PIGS COOK BOOK
Our latest cookbook includes over 190 of our most favourite recipes for creating delicious and nutritious pork, bacon, ham and sausage based meals. We are a busy group of Ladies communicating the values of British Pork as well as showing how pork can be included as part of a balanced diet. We are hoping that this new farmhouse cookbook will be invaluable in every household. Whether its breakfas…